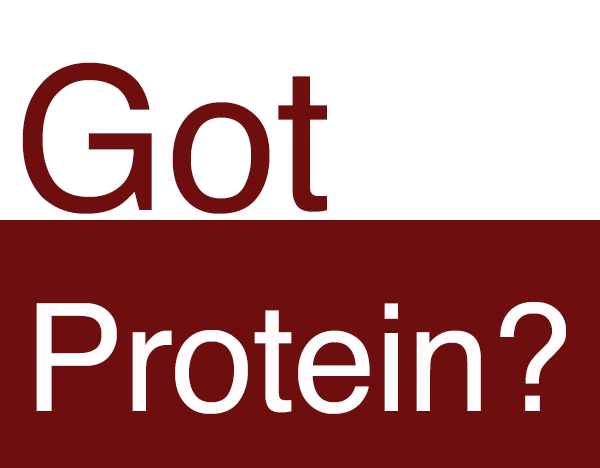 There is a protein craze going on in this country. Since "fats are fattening and carbs are evil", in many people's minds protein is the only macro nutrient that's safe to eat. Additionally, protein has been shown to aid with satiety. As a result, we are seeing new products introduced to the market promising high protein content. There is only one problem – the average American consumes much more protein per day than needed by the body.
The human body need about 0.8-1.0 grams of protein per kg of body weight. That's about 55-65 grams per day if you weigh 150 lbs. People in endurance training may need to up the number to 1.0-1.2 grams, which is 65-80 grams of protein per day. Bodybuilders may go even higher than that. But most of us are neither endurance athletes nor bodybuilders.
As mentioned earlier, we consume much more protein than our body needs, but it happens at uneven points during the day. We may go protein-less for breakfast by drinking coffee and a fruit smoothie. Or, we may do soup and salad for lunch with a very small amount of protein. But then we'll have a large steak (8 ounces) for dinner and get more than an entire day's worth of protein in one fell swoop of 60 grams.
The right way to think about protein is distributing protein consumption evenly throughout the day. Since protein helps us feel satiated, getting 10 -15 grams worth every 3 hours makes more sense than snacks and meals that have little protein value.
Before you run off to buy protein bars, look at the list below to see how easy it is to get protein from real foods.
4 oz chicken breast – 25 grams
4 oz hamburger – 20 grams
Glass of milk – 8 grams
Low fat yogurt  10 – 12 grams
Greek yogurt – 14-18 grams
1 medium egg – 6 grams
2 slices of whole grain bread – 6-10 grams
2 tbsp of peanut butter – 8 grams
Handful of almonds – 7 grams
Mozzarella cheese string – 6 grams