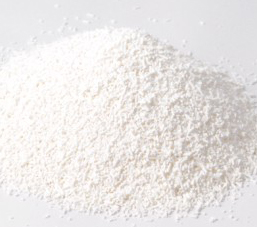 Processed food is not evil. It helps us spend less time in the fields or in the kitchen and more time doing important things such as playing with our kids or working overtime. One of the tenets of processed foods is an extended shelf life. Often, it is achieved by the use of food additives known as preservatives.
Preservatives have been around for ages, perhaps the best known is salt. Modern food science has brought forth many new chemical preservatives. Unfortunately, some of them have unintended side effects on our health.
Today we'll examine potassium sorbate, also known as E202, which serves as a preservative in a wide range of foods including:
yogurt
cheese
wine
dips
pickles
dried meats
soft drinks
baked goods
ice cream
Potassium sorbate inhibits the growth of mold. This is important because otherwise you'd open your product and … ewww. So we should be happy that food companies use this preservative, right?
Though found naturally in some berries, potassium sorbate is mass produced synthetically. No harm in that, especially since it makes it cheaper than sourcing from some wild berry in the Himalayas.
Potassium sorabte is also mild skin and eye irritant, but at the amounts used in food, this is not an issue expect for very rare occasions.
However, two studies have shown that potassium sorbate has the potential to mess with our DNA. In one study, PS is clearly seen to be genotoxic to the human peripheral blood lymphocytes (white blood cells). In another study, potassium sorbate mixed with ascorbic acid (vitamin C, which is present in many foods), caused mutagenicity and DNA-damaging activity. the risk demonstrated in the studies is very low, but it is statistically significant.
Bottom line: If you can, try to avoid products using potassium sorbate as a preservative.
—
Sources:
Mamur S, Yüzbaşioğlu D, Unal F, Yilmaz S.  Does potassium sorbate induce genotoxic or mutagenic effects in lymphocytes? Toxicol In Vitro. 2010;24:790-4.
Hasegawa MM, Nishi Y, Ohkawa Y, Inui N.  Effects of sorbic acid and its salts on chromosome aberrations, sister chromatid exchanges and gene mutations in cultured Chinese hamster cells. Food Chem Toxicol. 1984 ;22:501-7.
Kitano K, Fukukawa T, Ohtsuji Y, Masuda T, Yamaguchi H. Mutagenicity and DNA-damaging activity caused by decomposed products of potassium sorbate reacting with ascorbic acid in the presence of Fe salt.  Food Chem Toxicol. 2002;40:1589-94.