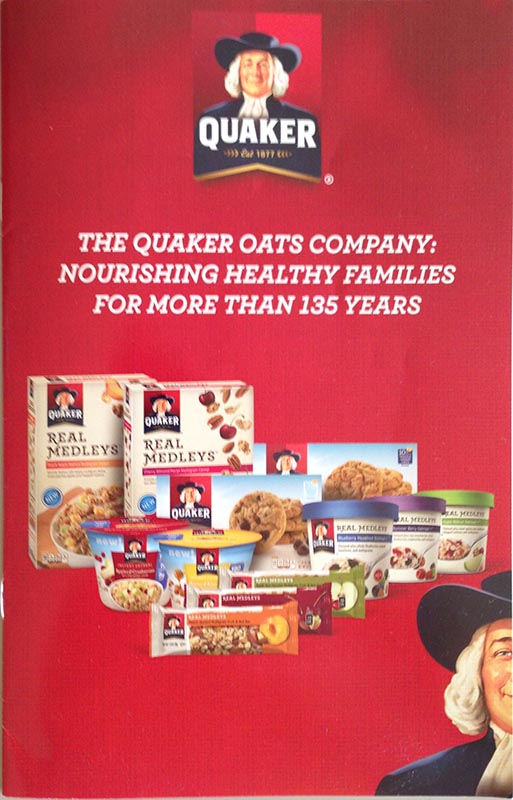 As part of our spring cleaning, we've been going over brochures from professional trade shows we've attended in the past year. One of them is a little booklet that was handed to dietitians by the Quaker Oats Company at the annual dietitian conference known as FNCE (Food & Nutrition Conference & Expo). Quaker is owned by PepsiCo.
The brochure is beautifully laid out and on its cover assures nutrition professionals that the company has been "nourishing healthy families for more than 135 years". The product line touted is "Real Medleys", which begs the question: are previous products from Quaker fake? The brochure features Real Medley cereals, cookies, bars, and oatmeal of course.
The Cherry Pistachio bar caught our attention right away: sounds like a tasty combination that could also be quite healthy. Both cherries and pistachios carry significant nutrients, not to mention the oats that are at the base of every product here.
The copy starts as follows: "Enjoy real ingredients and great taste with the unique medley of fruit chunks and nut combination…"
Sounds great. Let's take a closer look at the brochure and look up the ingredients.
OOPS.
No ingredient list.
The nutrition facts panel is listed, but for some reason, not the ingredients. Remember, this brochure was handed out to registered dietitians, at a professional conference. Shouldn't the information provided to health professionals include nutrition AND ingredients? Haven't we learned long ago that the nutrition facts panel can be MANIPULATED by the addition of fake ingredients? Is Quaker Oats hiding something?
We went ahead and looked up the ingredient information (which is available on the Quaker website):
TOASTED COATED MULTIGRAIN CEREAL (WHOLE GRAIN ROLLED OATS, SUGAR, WHOLE GRAIN ROLLED WHEAT, WHOLE GRAIN ROLLED RYE, MOLASSES, SOYBEAN OIL, NATURAL FLAVOR, SOY LECITHIN), ALMONDS, TAPIOCA SYRUP, SUGAR, DRIED CHERRIES, PISTACHIOS, HONEY, RED TART CHERRY JUICE, SUNFLOWER OIL, WATER, GLYCERIN, SALT, SOY LECITHIN, CITRIC ACID.
Notice that sugar ingredients appear 5 times in the ingredient list, 4 of them BEFORE the cherries and pistachios. The 12 grams of sugars in this bar are about 3 teaspoons' worth, in a tiny 1.3 ounce bar.
The predominant nut is – almond, not pistachio. Almonds are much cheaper than pistachios, if you must ask.
We've also underlined all the other ingredients that may be of interest to people who are into the "real ingredients" Quaker so proudly boasts at the top of the product information page.
By now you probably understand why Quaker decided to de-list the ingredient list from the brochure. We can understand the company easily fooling consumers with silly health claims and tricks, but dietitians? At a food and nutrition conference? For shame.