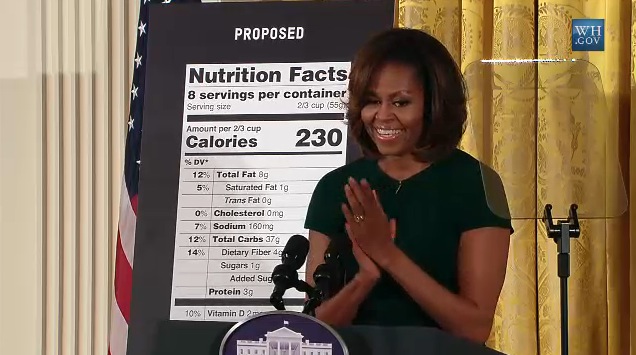 As you've probably heard already, the FDA has been hard at work trying to revamp nutrition labels on packaged foods, after more than 20 years since the original labeling law went into effect. No doubt, there was a lot of cajoling from the White House, with First Lady Michelle Obama championing healthy eating and exercise through her Let's Move initiative.
Yesterday at the White House, on the 4th anniversary of Let's Move, FDA Secretary Margaret Hamburg and the First Lady announced a proposed set of sweeping changes to nutrition labels. Way to go!
Please note that it could take 2-4 years before these changes are actually implemented. The FDA is now allowing the public (and corporations) to comment for 90 days. After that, there will be further wheeling and dealing until the FDA comes out with its final regulatory decision. From that point on, manufacturers will have a 2-3 year grace period to change their labels, and hopefully to improve their foods as well.
We like the proposed changes:
1. Focus on Calories. America is fat and needs to reduce calorie intake. By making calorie information much larger, it will be easier to spot on the nutrition label.
2. Real serving sizes. For years we've known that the suggested serving sizes are a joke. Who eats half a cup of ice cream? Just one ounce of cereal, or potato chips? The FDA is overhauling its definition of standard servings for tens of product categories. The serving size has an immediate effect on all other numbers on the nutrition panel, because they are all calculated per serving.
3. Serving size depends on package size. Many food and beverage items come in a single serve package, yet claim to contain 2 or more servings. The FDA won't have anymore of that. If you're a 20 ounce bottle of Cola being dispensed in a vending machine, you are one serving. Of course, the calorie value will reflect that. Instead of consumers seeing just 80 calories per serving (of 8 ounces), they will now see 200 calories (for 20 ounces).
4. Two columns of data. For packages that may be consumed as a single portion or as several servings, two sets of information must be presented. For example, a 2.5 ounce bag of Doritos can be wolfed down by one teen, or shared among 3.
5. Ditch "calories from fat". As we all know, fat is not evil. We need good fats. Counting calories from fat is not the right way to count calories.
6. Show added sugars. This is a great addition, and one that food companies will furiously try to repeal. Americans consume 16% of their calories from added sugars. The most current recommendation is that only 5-15% of calories come from added sugars AND solid fats. Obviously America needs help separating natural occurring sugars (fruit, yogurt) from added sugar. You'd be surprised how much sugar is added to bread, pasta sauce, and other foods. The challenge will be implementing this correctly. Manufacturers may start to use fruit purees instead of table sugar to avoid labeling added sugar, despite the fact that they are identical from a nutrient perspective.
7. Mandated Vitamin D and Potassium information. Currently these two nutrients do not have to be listed on the nutrition facts panel. But Americans are woefully deficient in both. Vitamin D helps build stronger bones (along with calcium). Potassium has multiple roles, among them regulating mineral and liquid balance in the body, reducing blood pressure spikes from excess sodium, and helping muscles contract. Expect more foods to be fortified with vitamin D
8. Optional Vitamin A and C information. Currently these 2 nutrients need to be listed. But since most Americans get enough, displaying their amount will not be mandatory.
9. Changes to recommended daily value for some nutrients. Sodium goes down from 2400 to 2300. It should have gone down to 1500. Fiber will go up from 25 grams a day to 30.
10. Layout is different and easier to read (hopefully). See the picture above and let us know what you think.
The above changes are great.
What's missing:
1. Front of pack information. For a quick peek on the front of the package, the Institute of Medicine recommended a simple front of package nutrition label. The food industry did not like it at all because it would scare consumers. So it created its own, the confusing Facts Up Front program, which obfuscates important information. Too bad the FDA did not strike it down with this proposal.
2. Caffeine content. As more products are seeing the addition of caffeine to their ingredient list, it would be great for the consumers to know how much buzz they will be getting.
3. Ingredient list upgrade. Not a word from the FDA about the ingredient list. This is a shame, because you can't buy a product based solely on its nutrition facts panel. Food companies have been gaming the system by using crappy ingredients and then fortifying the product with vitamins and minerals. In other cases, calories are reduced through the addition of artificial sweeteners (See the 100 calorie yogurt, oh so fashionable these days).
We would like to see controversial ingredients highlighted, to make it easier for consumers to decide to stay away. Examples: artificial sweeteners, artificial colors, azodicarbonamide, BHT, and more…
4. Country of origin. While the USDA does a semi-reasonable job of ensuring the safety and quality of our food supply, there is almost no oversight on imported foods. China and other countries don't have a good food safety record. American consumers should know if their product has been made with ingredients from abroad.
5. GMO information. We've written about this many times in the past. Genetically modified ingredients should be labeled. Consumers have a right to decide if they want to buy a product that has been altered in ways mother nature would not allow. Until long term studies by independent third parties can prove GMOs are safe, don't force consumers to risk their health.
For a full history of nutrition labeling (starting in 1862), read our blog post on the matter.
What do you think about the FDA's proposed changes?