This is a guest post by Brenna Memole, a student in the Nutritional Sciences program at UC Berkeley.
Nutrition has never been McDonald's strong suit, so it isn't surprising that the company's  sustainability / environmental practices have trouble getting much love either. But after visiting one of the mega-farms that supply produce to McDonald's, I was somewhat impressed to see the strides they have made.
From its first restaurant in 1955 to its current global count of around 34,000 locations, McDonald's has heavily expanded its menu along with the population it serves. To make this tremendous growth possible, the corporation has enlisted a handful of large mass-production suppliers. These suppliers are required to complete (but not necessarily ace?) an Environmental Scorecard – an annual evaluation of their efforts to promote sustainability and conservation in areas of water, energy, waste management and greenhouse gas emissions.
The image of McDonald's being eco-friendly is so at odds with the company that we've all come to know that I couldn't help but wonder: How can gigantic be sustainable? With this in mind, I toured the lettuce fields of their primary produce supplier, Taylor Farms.
After stripping off all jewelry and suiting up in gloves and hairnets, our group was allowed to set off into the romaine fields of Taylor Farms, located in the "Lettuce Bowl of the World" – the Salinas Valley of California. Taylor Farms is the source of lettuce for one in every three salads in the US, but also grows other vegetables, including broccoli, cauliflower, carrots and peas.
The Taylor Farms representatives and field managers were especially eager to demonstrate the new technology that has been increasing their production-time efficiency. Dispensing with the old method of bending down and picking the leaves straight from the soil, Taylor Farms is one of three farms in the world to use an incredibly high-pressure water technology to simultaneously pick and cut the lettuce.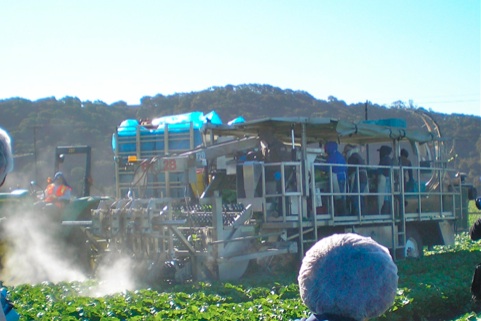 How is this more sustainable? Coming from the city water supply, and once used, the water is re-circulated and then purified via reverse osmosis. Once approved, it is returned to the community for irrigation purposes.
The contraption itself has many cylindrical sprayers at the front, which pump a low volume of ~1.5 gallons/min at extremely high pressure. This comes out to ~2400 gallons/day, which may seem like a lot, but is reportedly 1/3 of the water used by conventional farms (it wasn't clear whether this is for the same amount of lettuce… or same amount of acreage, or something else).
With workers operating in a more ergonomic, upright position standing around the conveyor belt as it up-chucks lettuce from the ground, lower-quality lettuce may be spotted more easily and tossed aside … and then re-composted back into the soil (something often done by small farms, but on this scale it apparently takes machinery with a $500,000 metal frame).
Other McDonald's ingredients that satisfy the Scorecard:
1. The company's entire global fish supply (Alaskan Pollock for the Fillet-O-Fish Sandwich) comes from Marine Stewardship Council-approved farms.
2. The entire espresso bean supply for US and Canadian McDonald's comes from Rainforest Alliance-approved farms. All coffee beans for Australia and New Zealand stores also come from Rainforest Alliance-approved farms. However, only 25% of the global McDonald's coffee bean supply is purchased from these farms.
3. Another criteria for their suppliers addresses the health and fair treatment of animals. The company established an Animal Health and Welfare Team tasked with piloting the guidelines and procedures for all global suppliers to follow pursuant to the company's belief that healthy animals ensure safe foods.
To aid this effort, facility audits by both outside companies and internal staff are carried out annually. However, while the goal of improving the health and welfare of suppliers' animals is honorable, nowhere could I find mention of the exact guidelines or actions they are taking.
In conclusion, after nearly 60 years of building a reputation for efficiency and consistency, McDonald's probably has a bit more "innovating" to do before its name will be seen in a greener light, but the PR menu does offer up some progress.
Editor's Note
The most substantial environmental damage of the fast food industry comes from  concentrated animal feedlots (CAFOs). Is it any wonder a lettuce field was selected by McDonald's PR Team for the media tour?