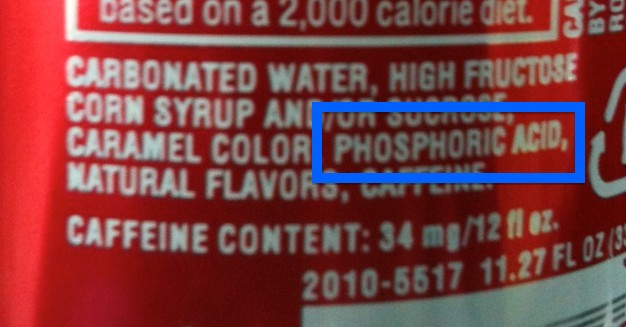 The last few years have been good for lawyers looking to make some money from class action lawsuits against the food industry. Hey, it's the American way!
The FDA's lack of definition for the word natural is an opportunity that seems to be spewing gold. In the last few years, there have been multiple lawsuits by consumers (and the lawyers who take a hefty cut of the settlement) against companies whose "all natural" products contain genetically modified ingredients, lab manufactured additives, and the like. A few examples are Truvia (a brand of stevia powder), Goldfish Crackers, and Naked Juice.
So it's no surprise someone would figure out a way to go after Coca Cola. As Food Navigator reports, the company is being targeted for the presence of phosphoric acid in its flagship Coke product.
Phosphoric acid is the chemical that serves a dual purpose in colas:
adds the tart flavor to counter 8 teaspoons of sugar.
preservative that prevents bacterial formation
Although it is naturally present in many foods, it is much cheaper to synthesize it in a lab than to harvest it from nature.
The plaintiffs in the current lawsuit posit that Coca Cola asserts in some of its marketing materials that Coke is made with natural ingredients, but phosphoric acid does not fall under that category and therefore Coca Cola is misleading.
Phosphoric acid (phosphates) has been linked to lower bone density in some epidemiological studies. However, only a small fraction of the phosphate in the American diet comes from additives in soft drinks. Most comes from meat and dairy products.
We are no fans of Coca Cola, for many reasons. But to us, this seems like a frivolous lawsuit. It's sloppy too. The plaintiffs could have thrown in high fructose corn syrup into the mix as well.