This is a guest blog post by Carol Harvey, Director of food/nutrition labeling and product development at Palate Works.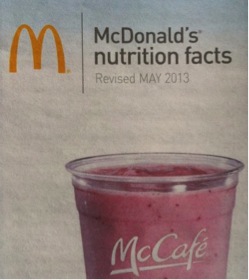 The McDonald's Menu Innovation Team has been busy … innovating. Between launches of new menu items with a wink at health/nutrition (see below), and media tours of their local suppliers (local if you're near the part of California where 40% of their U.S. lettuce and tomatoes are grown), there have been some interesting McChanges going on. Some may deserve more love than others.
Loving this (at least a little)
1. Nutrition Facts printed on many menu item wrappers, including McMuffins; an app with nutrition info; and easier-to-view nutrition/ingredient info on the web site.**
2. The Egg McMuffin muffins now contain some whole wheat, and reportedly 4 grams of fiber. (Impossible amount? See McHeadscratchers below.). They don't have the cleanest ingredient list in town, but it's progress. Perhaps we can look forward to hamburger buns and hotcakes getting the same upgrade… or better.
New English muffin ingredients: Enriched Bleached Flour (Wheat Flour, Malted Barley Flour, Niacin, Reduced Iron, Thiamine Mononitrate, Riboflavin, Folic Acid), Water, Whole Wheat Flour, Yeast, Maltodextrin, Cornmeal, Contains 2% Or Less: High Fructose Corn Syrup, Wheat Gluten, Soybean Oil, Salt, Calcium Sulfate, Calcium Propionate (Preservative), Natural Flavor (Plant Source), Dough Conditioners (DATEM, Ascorbic Acid, Azodicarbonamide, Mono- and Tricalcium Phosphate, Enzymes), Calcium Citrate, Citric Acid, Wheat Starch, Torula Yeast, Caramel Color, Sorbitan Monostearate.
3. Wraps are now available in small sizes (Snack Wraps). Handy if you just want to minimize calories. The Chipotle BBQ (with grilled chicken) and the Honey Mustard (with grilled chicken) versions taste decent and are the lowest in calories (330), fat (15 g), saturated fat (3.5 g) and sodium (avg. 660 mg). The only problem is that shrinking something doesn't make it healthier… only lower in everything.
And then there's that liquid margarine substance again. McDonald's had a great opportunity to make something lower in calories and healthier by skipping the margarine and beefing up the vegetables. Adding just 1-2 baby carrots (6 g grated) would provide 20% of the Daily Value for vitamin A, as would one full inner leaf of romaine lettuce (much more if an outer leaf is used), rather than a couple shreds of something less green.
4. Sweet potato and pumpkin pies! Cooked apples don't have much nutrition, but there's good vitamin A in that pumpkin pie (15% DV), and especially sweet potato pie (70%), which also has 6 g fiber. On the McDonald's menu, only the Premium Southwest Salads can top that for these two nutrients together. And the fat (12 g) and saturated fat (6-7 g) content is on par with other restaurant pies out there… maybe less, because of the smaller size of these pie-ettes.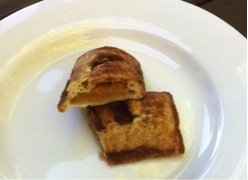 Not loving this so much
1. The placemat description of the new Egg White Delight McMuffin says "made with 100% egg whites, freshly cooked on the grill." OK, everyone knows you can't fry eggs on a grill; they're put on a griddle with a fatty substance. At home it's usually butter or plain vegetable oil, but in this case it's "liquid margarine":
Liquid Soybean Oil and Hydrogenated Cottonseed and Soybean Oils, Water, Partially Hydrogenated Soybean Oil, Salt, Soy Lecithin, Mono-and Diglycerides, Sodium Benzoate and Potassium Sorbate (Preservatives), Artificial Flavor, Citric Acid, Vitamin A Palmitate, Beta Carotene (Color).
With all the above stuff (including a small amount of trans fat) added to the egg white, is it really "100% egg whites"?
Compared to the Egg McMuffin with a yolk (and a heftier puck of egg according to our scale), the "white" version has approx. 50 fewer calories, 5 g less fat, 2 g less saturated fat, and 235 mg less cholesterol (not an issue for most people); but 20 mg more sodium (minor difference, considering the excessive 800 mg total), less vitamin A (4% DV vs. 10%), less calcium (25% DV vs. 30%) and less iron (10% DV vs. 15%).
So, in order to lose the dietary cholesterol that most people don't need to worry about, and a small amount of saturated fat (both sandwiches still get it from the margarine, cheese product and ham), you will also lose out on the good things yolks provide: mostly vitamin A and iron. Not much of an improvement to go "white," but both McMuffins now have more fiber due to the new muffin, so it's a toss-up as to which is "better."
Egg White Delight on left, classic McMuffin on right:
2. Trans-fats shows as "0" in Nutrition Facts when it is under 0.5 gram. After 10 days of emailing with McDonald's nutrition and PR personnel, we were not able to obtain the exact (unrounded) trans fat content of their liquid margarine and spreadable margarine. Both contain small, undeclared amounts of trans fats and are used in many McDonald's menu items, including:
Egg McMuffins
breakfast biscuit items (anything with liquid margarine or the Breakfast Steak Pattie)
 Cinnamon Melts
Hotcakes (from the margarine pat)
most or all of the grilled chicken items (sandwiches, wraps, salads)
McChicken patty
bagel sandwiches
Crispy Chicken Sandwich.
Nutritional McHeadScratchers
1. Where does all the fiber (4 g, see above) in the English muffins come from? Even Thomas' 100% whole wheat muffins have only 3 g fiber per similar size and they use much more whole grains.
2. Apple slices: Why are they peeled? Most of the nutrition (fiber and antioxidants) is in the skin or just below. The ascorbic acid + calcium preservative "gives back" way more vitamin C than apples normally contain, plus a good dose of calcium, which they don't contain. This fortification allows the apple slices to be called a "healthy" item, though, because the item now has at least 10% DV for a vitamin or mineral, in addition to being low in fat, etc. Apparently apples with the skin and a simple soak in lemon water don't test well in focus groups. And, heaven forbid kids are shown how to eat a real apple, or benefit from its innate nutrition.
Carol Harvey has been a nutrition labeling and product development consultant for over 15 years. She can be reached at palatemail [AT] yahoo [DOT] com.