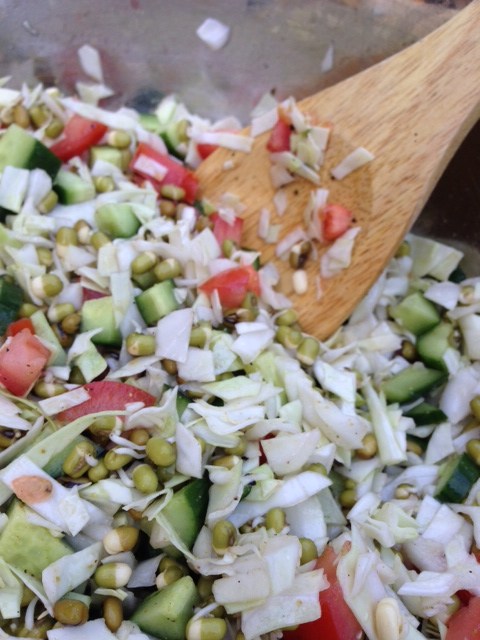 This is a recipe we got from Registered Dietitian Vandana Sheth, who has a private practice in Southern California.
Mung beans are one of the cheapest bean varieties to buy in bulk. Originally domesticated in Mongolia, they made their way to India to become a staple of daal dishes. Sprouting mung beans naturally boosts their nutritional profile. It's a fun project to do with the kids too!
This sprouted mung beans salad is a vibrant, nutritious and tasty dish that can be enjoyed as is for a light meal or as a side dish. It's also really simple to prepare.
Ingredients:
2 cups sprouted mung beans
1 cup chopped tomatoes
1 cup chopped cucumber
¼ cup chopped cilantro
½ – 1 cup shredded cabbage
1 seeded and diced green chili (optional)
1 tsp minced/grated ginger (optional)
For the dressing:
1 Tbsp oil (olive oil/canola oil)
½-1 tsp salt (optional or adjust to your taste)
1 tsp freshly roasted and ground cumin
1 Tbsp lemon juice
Directions:
0. Sprouting Beans – You need to do this 1-3 days in advance.
Soak one cup of whole mung beans in a bowl with four cups of water overnight (about 10-12 hours).  The mung beans will typically double in volume.  Next, line a colander with a cheese cloth, drain the water, and wrap beans in the cheesecloth.  Store the colander in a dark place such as your cold oven or pantry.  You will start seeing the beans sprout in 12-24 hours.  Use immediately or store in the refrigerator for up to 5 days.
1. Mix all of the dressing ingredients and set aside.
2. Heat about 1/4 cup of water in a pan with sprouts and salt.  When it comes to a boil, turn the stove off, leave it covered for ~4-5 minutes.
3. Mix the sprouted beans with all of the ingredients above (chopped tomatoes, cucumber, shredded cabbage, diced green chili, and grated ginger), stir in the dressing, and garnish with cilantro.  Enjoy as a warm salad or cool in the refrigerator and enjoy as a cold salad.