This is a guest post by Jackie Topol, MS, RD, CDN, a clinical dietitian and culinary nutritionist based in New York City.
Last weekend I traveled to Baltimore for the Natural Products Expo (also known as Expo East).  This huge event occurs every year at the Convention Center and brings together both large and small natural food, beauty, and supplement companies.
If you are a Fooducate app user, you probably know that "natural" does not always mean good for you.  Therefore I scrutinized labels and ingredients and in the end I was pleased to find a number of new foods on the market that are healthy and delicious too.
Some of you might be surprised to find some snack foods on this list but snacking is totally fine in my book, as long as you do so wisely. When I evaluate whether a snack is healthy, I look at the serving size and amount of calories, fat, fiber, protein, sugar and salt each serving has as well as the overall nutritional value.
So without further ado, here are my top 10 best finds at Expo East.  Most of the products are available in stores and some will be coming out very soon so be sure to check them out!
1.  Simple Squares – Protein bars can be a good grab-and-go snack, but that really depends on the ingredients.  Personally I also often find most protein and snack bars way too sweet however Simple Squares solves that problem with their delicious wholesome bars that are hearty with just a hint of sweetness.  The ingredients couldn't be cleaner with each bar containing only 5 ingredients. With unique flavors like Rosemary (my fave), Sage, Ginger, Cinna-clove, Coconut, and Coffee this high protein, low sugar bar will surely be a hit.
2.  One Degree Organic Foods Veganic Ancient Whole Wheat Bread – This tasty whole wheat bread comes from sprouted grains and has a delicious nuttiness.  One slice is 100 calories and has 5g of protein and 3g of fiber.  This company connects with consumers in a whole new way by putting a QR code on the front of each package so you can meet the farmers that produced the grains in each loaf.  What a fun and interactive way of getting to know where your food really comes from!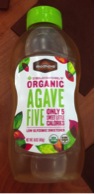 3.  Madhava AgaveFIVE – By blending together organic agave, organic stevia and monk fruit Madhava was able to create a sweetener that is only 5 calories but has a rich flavor without the aftertaste that many stevia products have.  It will be hitting shelves in October so be on the lookout!
4.  Mediterranean Snacks Tapaz 2 Go – This was probably my favorite find at the Expo.  This little tapas package includes lentil crackers and a container of hummus that is completely shelf stable.  It's perfect for picnics, traveling, and camping.  The top part of the package pops open so that the hummus sits in place while you dip away.  Smart design, great taste!
5.  Live Love Snack LOL's Kale & Sea Salt Popped Multigrain Chips – With a combination of rice, corn, quinoa, and teff as well as ground flaxseed meal, chia seeds, and sunflower seeds its no wonder this chip provides 3g of fiber and 3g of protein per serving.  I love the flavor that the dehydrated kale gives the chips too.
6.  Neat Original Mix – I was totally blown away by how delicious this meat-free mix was. Neat was developed by a husband and wife team who created this for their daughters when they decided to go vegetarian.  Unhappy with the vegetarian protein options on the market, Laura headed into the kitchen and began experimenting.  The result is a tasty meat substitute that would have anyone fooled.  It can be used to make burgers, chili, meatballs, and more.  And the ingredients couldn't be more pure: pecans, garbanzo beans, white beans, organic whole grain gluten free cornmeal, sea salt and spices.  All you have to do is add water and egg (or an egg substitute to keep it vegan) and you're ready to get cooking!
7.  Hope Foods Lentil Dip – Hope Foods recently added a line of lentil dips to their brand which sells uniquely flavored organic hummus.  I had to hold myself back from finishing the whole container because it was so good!  It was savory and perfectly balanced, creamy but with a bit of texture.  I'm so glad that Hope Foods is continuing to grow and offer consumers delicious, high-quality dips.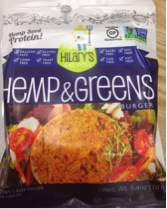 8.  Hilary's Eat Well Hemp & Greens Burger – Many veggie burgers are full of processed soy but Hilary's is not only soy-free, but gluten-free, dairy-free, and egg-free as well.  It is packed with good nutrition, using organic millet and a blend of organic greens, spices, and omega 3-rich hemp seeds.  Hilary's has a variety of other delicious burgers, but this is by far my favorite.
9.  Bitsy's Brainfood Smart Snacks – Finally, a cookie that you can give your kids without a guilty conscience.  Two moms came up with these tasty organic whole grain cookies that sneak in vegetables and even fish oil, providing omega 3's without affecting the taste.  The flavors are great and the alphabet shapes are super kid-friendly.  My favorite flavors are Sweet Potato Oatmeal Raisin and Lemon Broccoli.  I also got a sneak peek at their newest item that will be out soon, fruit & veggie flavored alphabet cereal!  Delicious without a drop of food coloring or artificial flavoring.
10.  Flamous Brands Organic Falafel Chips – With a blend of non-GMO corn and beans, this makes for a chip packed with fiber and protein.  10 chips will only set you back 120 calories but offers 3g fiber and 3g of protein.  I found myself satisfied after only a few because of the amount of flavor from the variety of spices in the chip.  I was happily surprised that there's only 80 mg of sodium per serving as compared to nearly 200 mg found in the average serving of chips.
All in all I had a great time at Expo East and I look forward to going to next year's so that I can share more healthy finds with you!
Jackie Topol, MS, RD, CDN is a registered dietitian based in New York City. She is a clinical dietitian at NewYork-Presbyterian Hospital where she specializes in cardiology and oncology. In her free time, you can find her in the culinary studio with her students at the JCC in Manhattan. Her therapeutic cooking classes highlight foods that prevent diseases and promote good health. Follow Jackie on Twitter for nutrition tips and #RDreviewed recipes.