This is a guest post by Jackie Topol, MS, RD, CDN.
As a registered dietitian, an important part of my job is to help people make healthier food choices. Though I encourage people to cook at home, I often focus my counseling on how to make the best decisions when dining out.  With Americans eating out an average of five times a week and the majority of restaurants serving dishes laden with fat, sugar, and salt (as this recent article from the Smithsonian magazine illustrates), it's no surprise that our country has packed on the pounds.
But making healthy choices when eating out may not be as challenging as it seems.  I invited dietitians from across the US to recommend their favorite healthy dish to illustrate the most nutritious options available when dining out. There is something for everyone on this list no matter what dietary preferences you may have.  Best of all, whether the restaurants on this list are located in your city or elsewhere, the dietitians provide valuable advice and food for thought that can be applied to any menu you encounter!
(photos taken by each RD reviewer unless otherwise noted)
1.  Smoked Salmon Eggs Benedict
Restaurant: Cora's Coffee Shoppe Santa Monica, CA
(photo from shespeaksoceans via Flickr)
"If there's one thing I love more than brunch, it's eating brunch with someone who likes to share. (I need sweet and savory!) My boyfriend and I head to Cora's on lazy weekend mornings and share the eggs Benedict. This dish comes with two of everything — two thin slices of fresh bread each topped with a very light hollandaise sauce that's loaded with spinach, smoked salmon, a peeled soft boiled egg, and a roasted tomato — so it's perfect for sharing. The flavors in this dish are not covered up by loads of salt or butter, you actually taste the true flavors of spinach, tomato, salmon, and egg come together and it is delicious and satisfying. Nutritionally, I appreciate that this breakfast delivers protein (from the egg and salmon) and gives you a proper dose of veggies first thing in the morning. And I know you're probably thinking, "Hollandaise — so heavy!" but Cora's sauce is heavy on the spinach and light on the hollandaise. And to fulfill that sweet-savory combo perfection, share the breakfast but order your own side of fresh fruit. Cora's also serves Caffe Luxxe coffee…so the coffee is not disappointing."
-Willow Jarosh MS, RD @CJNutrition
Co-owner of C&J Nutrition
2.  Chopped Vegetable Salad
Restaurant:  BLT Steakhouse, locations around the country including NY, DC, Scottsdale, Atlanta, Miami
"Every Saturday night is date night with my husband. Several times a month we go to the local movie theater, then out for a light dinner. BLT is around the corner from my local movie theater and my go-to dish is the Chopped Vegetable Salad made with lettuce, radicchio, frisee, radishes, cucumber, corn, tomatoes, hearts of palm, kalamata olives and feta cheese drizzled in a creamy oregano dressing. To cut calories and keep it "light", I order the dressing on the side and tell them to go light on the olives and feta cheese."
- Toby Amidor MS, RD @tobyamidor
Nutrition expert and owner of Toby Amidor Nutrition, PC
3.  Grilled Chicken Club Sandwich
Restaurant:  Babette's East Hampton, NY 11937
"One of my all-time favorite nutrient-rich summer meals is the grilled chicken club sandwich from Babette's in East Hampton, New York. Thinly sliced grilled chicken breast, layer after layer of greens, tomato, three slices of turkey bacon and a little mayo are stuffed on between two slices of whole grain toast. I order it with fruit on the side (eat about half of it) and eat about half the chicken and 3/4 of the bread (it's quite a large sandwich). This protein-rich, high fiber meal also packs in B vitamins, vitamin C, and other key nutrients. It's sinfully delicious minus the sin. Yum!"
- Elisa Zied, MS, RDN, CDN @elisazied
Founder/President of Zied Health Communications, LLC and author of the upcoming book Younger Next Week
4.  Grilled Fish Plate
Restaurant: Fish 101 Encinitas, CA
"San Diego, CA is my family's number one favorite vacation spot, so we visit as often as possible. Every time we go we look for new restaurants to add to our rotation. Recently, we discovered a keeper – Fish 101, a laid back fish house with a SoCal vibe. The fish is super fresh so every time go I order the grilled fish plate which serves up the catch of the day (last time it was grilled halibut) and really simple, healthy, delicious sides like black beans and sautéed baby bok choy. I also love that they have an extensive wine by the glass list which always includes organic chardonnay."
- Karen Ansel, MS, RDN, CDN @KarenAnselRD
Spokesperson for the Academy of Nutrition and Dietetics
5.  Filet Mignon with Broccoli Sautéed with Garlic & Oil
Restaurant: The Palm, locations around the country including NYC, East Hampton, Dallas, Houston, Chicago, Miami
"I consider myself a flexitarian, so every once in a while I enjoy a piece of steak to my usual plant based diet. At The Palm I order a 14 ounce filet mignon, because it is one of the leanest and smallest cuts of beef they offer (sans the high-fat sautéed onions), and share it with my husband. Honestly, he eats around two-thirds of it to my one-third. I order a side of broccoli to help fill up my plate with less calories and always ask for "light on the oil, heavy on the garlic". Delicious – each and every time."
-Keri Gans, MS, RDN, CDN  @kerigans
Nutrition Consultant and Author of The Small Change Diet
6.  Short Smoked Grilled Salmon Salad
Restaurant:  Coastal Flats  Fairfax, VA
"This dish is pretty "iconic" in my part of town. If you live in Northern Virginia you've likely gone to a Great American Restaurant. The Short Smoked Grilled Salmon Salad from Coastal Flats in Fairfax, Virginia is a hickory grilled salmon on a bed of lettuce with a few green beans and potatoes and some lovely caramelized onions. In a restaurant that offers some pretty high calorie entrees and is best known for serving Ozzie rolls (aka donuts) pre-dinner, it's a tasty and healthy alternative. I always get the dressing on the side and usually skip the croutons."
- Danielle Omar, MS, RD @2eatwellRD
Dietitian & Culinary Nutritionist
Author, Skinny Juices: 101 Juice Recipes for Detox & Weight Loss (Da Capo Press, 2014)
7.  Tomato Gazpacho
Restaurant: Zinc's Café and Market, locations in Laguna Beach, Solana Beach and Corona Del Mar, CA
"It's not a visit with my Dad until we've broken bread at Zinc's. We typically walk there, enjoy lunch and tool around downtown Laguna Beach. The tomato gazpacho is my absolute favorite-it has a rich depth of flavor with a bit of tang balanced by the sweetness of the tomatoes. It's the perfect consistency for my taste-I like it a tad thick. You can order it without the croutons …but I don't!  Here, it's served with a 1/2 sandwich and a simple salad of greens, tomato, feta cheese and balsamic vinaigrette."
- Robin Plotkin, RD @Robinsbite
Culinary & Nutrition Communications Expert
8.  Seasonal Salad with Asparagus and Artichokes & Omelet with Vegetables
Restaurant:  Urbane  Seattle, Washington
"On a recent trip to Seattle, I had the pleasure of dining at Urbane, which is a fantastic restaurant in the downtown area that highlights local, seasonal produce.  I went there for brunch and started with a fresh seasonal salad that was made with asparagus and artichokes straight from the farmer's market.  For the omelet, I skipped the meat and cheese fillings and opted for the flavorful local veggies (I put mushrooms and spinach in mine).  The salad and omelet combo not only makes for a super filling and satisfying brunch but it is also a much healthier choice than pancakes, waffles, French toast, and the like."
- Jackie Topol, MS, RD, CDN @jackietopolRD
Clinical Dietitian at New York-Presbyterian Hospital and Culinary Nutritionist
9.  Grass Fed Bison Burger
Restaurant: True Food Kitchen, locations in Scottsdale, Arizona; Phoenix, AZ; Newport Beach, Santa Monica, and San Diego, CA; Denver, CO
"This restaurant, based on Dr. Andrew Weil's anti-inflammatory diet, ranks among my top places to visit for lunch or dinner, especially with girlfriends. Just walking into the place refreshes me! And it's only 10 minutes from my house. The juicy grass fed bison patty is piled with a blend of sautéed wild mushrooms, then drizzled with an out of this world umami sauce (made of nutritional yeast and liquid amino acids), watercress and mayo. I order it without the Parmesan (aged cheese can aggravate my skin). All of this juicy goodness is tucked inside a whole-grain flax seed bun. It's served with their signature Tuscan Kale Salad with lemon vinaigrette and breadcrumbs, where again, I ask to "go light" on the Parmesan. Oh, so good."
- Michelle Dudash, RDN @michelledudash
Cordon Bleu-certified chef and author of Clean Eating for Busy Families
10.  Spigolla Alla Piastra
Restaurant: Rosemary's  New York, NY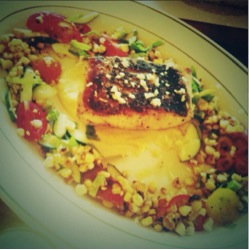 "Rosemary's is all about sustainability and local goodies, they even have a rooftop farm!  I absolutely love the open door vibe of the restaurant, and the food is all perfect size portions. Not a bite left, but you don't leave feeling like you need to unbutton your jeans. The dish I really enjoyed was the "spigolla alla piastra": the Wild Sea Bass with local sweet corn, cucumbers, cherry tomatoes, fresh ginger and shishito peppers.   I loved it because the corn "salsa" includes all the flavors of mid/late summer season and is a sweet spin on the wild sea bass. Local means more nutrition for your buck, plus supporting small farms is awesome.  Shishito peppers and ginger are a funky Asian twist on a typically Mediterranean dish – but they don't overpower it.  The best part: all the greens and herbs come from upstairs — it doesn't get fresher than that."
- Carolyn Brown, MS RD @onesmartbrownie
Nutritionist at Foodtrainers
11.  Shaved Brussels Sprout Salad
Restaurant: Bottega Napa Valley, CA
"While on vacation with my husband in Napa, a foodie's paradise, one restaurant stood out from the others: Chef Michael Chiarello's Italian restaurant, Bottega. Although I'd like to describe every dish I tasted that night, this Shaved Brussels Sprout Salad was one of my favorites! Packed with brussels sprouts, almonds, a sieved egg, and pecorino cheese it filled my mouth with the perfect combination of crunch and flavor with a light, but satisfying, lemony bouquet. For more on Chef Michael Chiarello and my experience at Bottega click here."
-Bonnie Taub-Dix MA, RDN, CDN @eatsmartbd
Author, Read It Before You Eat It and owner of BTD Nutrition Consultants
12.  Ceviche de La Casa
Restaurant:   Ceviche  Tampa, FL  
(photo from Ceviche's website)
"I was recently down in Tampa and ate lunch at a fabulous restaurant (which is one of the city's iconic restaurants) called Ceviche.  Their Ceviche de La Casa has marinated shrimp, scallops, squid and fish tossed in lemon-lime juice with fresh tomatoes, onions, peppers and cilantro. I paired this with a salad– there was so much food, that I took it back to my hotel & ate it for breakfast the next day!  I like to consume ceviche because it has such a clean, simple, light and refreshing taste.  I hate to confess that often when I travel to cities – the "iconic" restaurants are not necessarily known for "healthy" foods… so what I do to prepare for a fat & caloric meal is to eat light before and I seldom ever finish my food alone – so I share or take it home (or to a hotel if there is a refrigerator). When a hotel does not have a refrigerator (or if I know I really won't eat the food), I'll take the food to go & ask for plastic ware and give it to a homeless person."
- Dr. Felicia D. Stoler, DCN, MS, RD, FACSM  @feliciastoler
Nutritionist & Exercise Physiologist and author of Living Skinny in Fat Genes™: The Healthy Way to Lose Weight and Feel Great

13.  Small falafel in a whole wheat pita, loaded with veggies
Restaurant: Amsterdam Falafel Shop  Washington, DC
(photo by lighto via Flickr)
"My husband and I have ventured to the Adams Morgan neighborhood in DC on weekends just to get lunch at this tiny falafel shop. The falafel (a fried chickpea ball) is perfectly crispy on the outside and moist and perfectly seasoned on the inside. But my favorite part of this meal is the toppings bar. Your falafel is served in its pita (they offer a whole wheat option, which I love!) in a simple paper sleeve. Then you get to load it up with the tastiest toppings you could imagine. I load up on all of the veggies, including the pickled ones (beats, carrots, so yummy), and the roasted eggplant, then finish it off with hummus and cucumber yogurt sauce. I skip the different types of mayo and cream sauces to keep it light. I also order the small size to keep the portion in check, which is two falafel balls in a small 6″ pita. The trick with this dish is that you don't get a plate (they must realize everyone would go back for seconds on the toppings bar) so you've got to be skilled at piling the veggies high, without losing any to the table while taking a bite. There's strategy involved, and I always love a challenge!"
-Stephanie Clarke MS, RD @CJNutrition
Co-owner of C&J Nutrition
14.  Kale Salad
Restaurant: Northern Spy Food Co.  New York, NY
"I love kale, and use it in many different recipes, but kale salads can be hit or miss. This one is definitely a hit: the kale is cut in a chiffonade style – long, thin strips that carry the toppings well. It is then tossed with summer squash, toasted almonds, and just the right amount of cheddar and pecorino cheese. It is tossed with a bit of olive oil (a great source of healthy omega 3 fats) and lemon juice. The protein in the cheeses and nuts, along with the fiber in the vegetables, helps to make this a thoroughly satisfying meal. It is also a great starter to split with your dinner companion, as the salad itself is large. Having a salad before your main meal is a great way to fill yourself up, so you don't consume too many calories at dinner."
-Alissa Rumsey RD, CDN, CNSC, CSCS  @alissarumseyRD
Nutrition Consultant and owner of Alissa Rumsey Nutrition & Wellness Consulting
15.  Pescado Pibil 
Restaurant:  Rosa Mexicano, locations around the country including NY, LA, San Francisco, Miami
"I love the Pescado Pibil which is grilled white fish marinated in achiote, orange and garlic. and topped with habanero-lime marinated onions.  Being that fish is a lean protein, the flavors used to add taste to this dish are pungent and delicious. It's a light meal and there are no heavy creams or carbs served with it. Ordering grilled fish is an easy way to eat healthy when you are not cooking.
- Anita Mirchandani MS, RD, CDN  @fitnutanita
Nutrition & fitness expert and founder of FiTMAPPED
16.  Breakfast Power Sandwich
Restaurant: Panera Bread, locations nationwide
"I work with a lot of college athletes and getting a healthy breakfast on the road is always a challenge. I'm a big fan of the Panera Breakfast Power Sandwich. It has egg, cheddar cheese and ham nestled between two slices of yummy whole grain bread. With 340 calories, 15 grams of fat, and 22 grams of protein it makes a great post workout meal to refuel tired muscles. Sometimes I skip the ham, which slashes the sodium by 30%, but after a hard workout that extra sodium can be beneficial to replace sweat losses. Other times I keep the ham and skip the cheese, this also cuts back on sodium and fat. I recommend matching this sandwich up with a Summer Fruit Cup – it only tacks on 60 calories. Panera's online nutrition calculator (which I love) allows you to mix and match menu items to find the healthiest choices."
-Dana Angelo White MS, RD, ATC @DWNutrition
Culinary Dietitian and Certified Athletic Trainer
17.  Mediterranean Wrap
Restaurant:  Jason's Deli, locations nationwide
"I really like many of the choices at Jason's Deli, a chain that is very popular in the southeast and southwest part of the country including Texas.  They have a wonderful Mediterranean Wrap which is a turkey breast, roasted red pepper hummus, cucumbers, red onions, kalamata olives, roma tomatoes and organic field greens served in an organic whole wheat wrap.  I get it with their fruit cup side (without the sugary yogurt dip).  I love this selection because it's a rainbow of simple, yet very tasty nutrition – fiber, tons of B vitamins, lots of antioxidants (every color provides it's own anti-cancer properties!) and even calcium.  It's a great combination of lean protein, whole grains, and healthy fat to make this meal very satisfying."
-Angela Lemond, RDN CSP LD @lemondnutrition
Owner of Lemond Nutrition
18.  Fire Roasted Green Farro with Sea Asparagus, Black Garlic, Sorrel
Restaurant: Burdock and Co. Vancouver, Canada
"I am fortunate to live in a city that takes care of its vegetarian foodies with creative and healthy food! Burdock and Co is one of my neighbourhood haunts; they have a strong commitment to serving local and sustainable foods. This vegan dish features farro, a whole grain that many people aren't familiar with, and I love how they layer such delicious flavours without resorting to heavy lashings of butter and cheese. The farro really tastes like it spent some time over a campfire!"
-Desiree Nielsen BSc RD  @desireerd
Nutrition Consultant and Owner, Desiree Nielsen Nutrition

19. Freshii Green Wrap
Restaurant: Freshii, locations nationwide
"I get the Bangkok Burrito in a collard green wrap and sub the tofu for chicken.
I love peanut sauce and this is a smart way to get that flavor with lots of veggies – even the wrap is a leafy green. It's a light & energizing go-to lunch for me."
- Dawn Jackson Blatner, RD @djblatner
Author of The Flexitarian Diet
20. Artic Char Crudo
Restaurant: Michelin-starred Rouge Tomate, New York, NY (and Brussels, Belgium)
(photo by Thomas Schauer)
"When dining out I like to sample more than just an entrée. Having an appetizer of raw seafood is not only delicious but also typically low in calories, and seafood usually contains Omega 3 fatty acids.  The Arctic Char Crudo conforms to SPE Certified's principles and is particularly delicious, made with horseradish yogurt, dill purée, pumpernickel crisp, and trout roe — and only 100 calories! (link to nutritional analysis)
- Natalia Hancock, RD @nataliahancock
Senior Culinary Nutritionist at SPE Certified
Jackie Topol, MS, RD, CDN (www.jackietopol.com) is a registered dietitian based in New York City. She is a clinical dietitian at NewYork-Presbyterian Hospital where she specializes in cardiology and oncology. In her free time, you can find her in the culinary studio with her students at the JCC in Manhattan. Her therapeutic cooking classes highlight foods that prevent diseases and promote good health. Follow Jackie on Twitter for nutrition tips and #RDreviewed recipes.