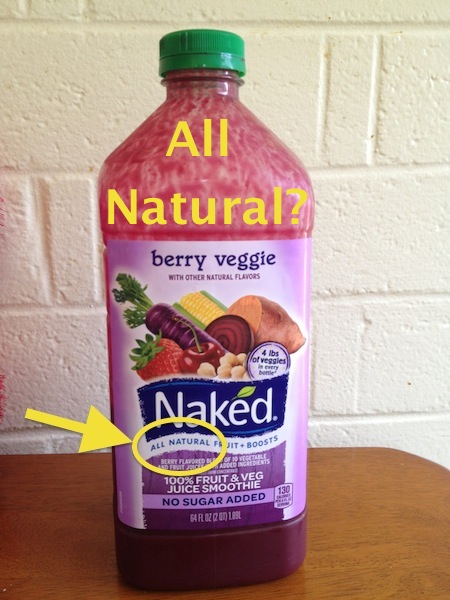 Naked Juice is a very successful brand under the PepsiCo umbrella. Selling juice has been a profitable venture for both Coke and Pepsi, as pressure mounts to diversify from their core cola brands. Indeed the health halo attached to juice blends has also helped.
Fooducate community members know better. Juices, while no doubt delicious, are a mega-dose of concentrated sugar, straight to your bloodstream. Many of the nutrients present in the whole fruit are lost immediately when juiced or within a few hours, as well as most of the fiber content. That's why we recommend limiting your intake and enjoying half a cup of fresh squeezed juice sparingly. Yeah, we know – it's hard to stop at 4 fluid ounces.
Of course, manufacturers want you to consume more. That's why many Naked Juice bottles that are sold in vending machines, coffee shops and airports (clearly intended for a single person) actually have 2 cups of juice as the portion consumed.
Naked Juice is considered a premium brand juice, and it commands a high price for its blends of exotic fruits. The packaging and labeling exude an air of health with claims such as
No sugar added
All Natural
100% fruit
Etc…
All was fine and dandy in Naked-land until a class action lawsuit was filed by consumers who peeked under the hood and decided that some of the ingredients used were not so natural. The plaintiffs don't consider the GMO soy used in some smoothie blends to be a natural ingredient, nor the inulin and other lab manufactured oligo-saccharides, which are added to bulk up the fiber content of some drinks.
PepsiCo decided to settle without admitting any wrongdoing and will pay $9 million dollars. Why did PepsiCo settle? Well, there is a regulatory black hole when it comes to defining what is "natural". The FDA guidance is very limited, and that's why for most manufacturers, it's a no-brainer to slap "All Natural" on their product packaging.
But PepsiCo figured it would do more harm to go to trial than settle for a tiny amount (compared to its billions in ad spend).
You're probably very curious to see what ingredients go into those pseudo natural Naked juices right?
Here is the ingredient list of the berry veggie smoothie:
Sweet Cherry Puree, Purple Carrot Juice from Concentrate (Water, Purple Carrot Juice Concentrate), Red Beet Juice from Concentrate (Water, Red Beet Juice Concentrate), Sweet Potato Puree, Strawberry Puree, Plum Puree, Sweet Corn Puree, Apple Puree, Chickpea Puree, Lemon Juice, Inulin, Natural Flavors, Ascorbic Acid (Vitamin C), D-Alpha Tocopheryl Acetate (Vitamin E), Niacinamide, D-Calcium Pantothenate (Vitamin B5), Beta Carotene (Vitamin A), Pyridoxine Hydrochloride (Vitamin B6), Cyanocobalamin (Vitamin B2).
At first glance, the ingredient list looks very good: a variety of fruits and vegetables, no artificial colors or sweeteners, no scary additives.
At second glance we see:
1. Lots of purees. This is a code word for sugar. A cup of this juice has 18 grams or 4.5 teaspoons of sugar.
2. Inulin – what's chicory root doing in a beverage? Ensuring you'll be astounded by the 5 grams of fiber in this drink (about 20% of the daily recommended intake). But, there is a downside – read here about farting fiber.
3. Added vitamins and mineral (calcium). Hold on a second, with all those fruits and vegetables, how is it that the manufacturer still had to add all those nutrients?
What do you think? Is this product worthy of the "All Natural" label?
Want to know how well Naked Juice rate on Fooducate? Get our app!