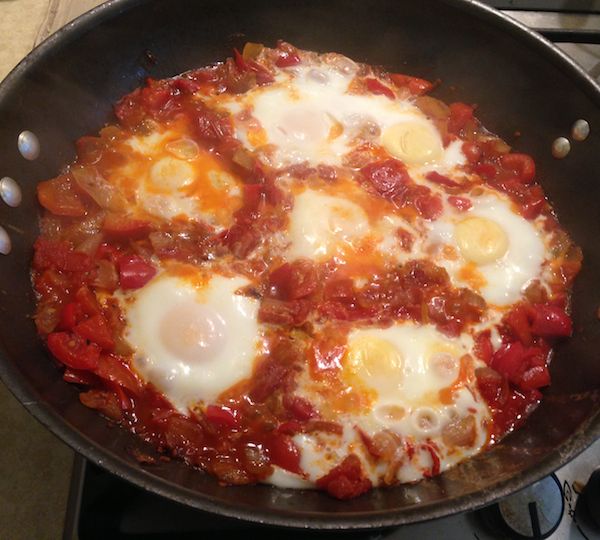 Shakshuka is a Mediterranean dish consisting of eggs poached in tomato and pepper sauce. It's easy to make, filling, and makes for a perfect main dish on a lazy Sunday brunch. Shakshuka is best served with freshly baked bread or pita bread and tahini sauce.
Ingredients:
2 large onions, roughly diced
3 bell peppers, diced
6-8 very ripe tomatoes, diced (canned tomatoes are also good)
3 garlic cloves, chopped
2 tbsp olive oil
paprika, salt, pepper
6 eggs
Optional: tabasco, chipotle, or any other spicy addition
Work tools:
Large skillet with cover
Cutting board
Chef's knife (or other sharp knife)
2 mixing bowls
Instructions:
Wash and dice the onion, peppers, and tomatoes storing each in a separate bowl. Tip: best to leave onions for last, as their remains on the cutting board tend to keep chefs crying even after moving on to chop other veggies.
Heat the skillet and then add the olive oil.
When very hot, add onions and garlic; saute for 5 minutes, mixing once or twice.
Add peppers, saute for another 5 minutes, mixing once or twice
Add tomatoes, and mix well.
When you see the liquids start to boil, lower heat to minimum and cover.
Let simmer for 20 minutes-3 hours, depending how much time you have before guests arrive. Mix every once in a while. Sauce should be slightly liquid with lots of solids poking out.
Add a tablespoon of paprika, and salt and pepper to taste. If you like things spicy, now's the time to add some spice.
Mix one last time.
Carefully break the egg shells and drop eggs onto the sauce. Six eggs should cover the entire skillet.
Cover skillet and increase heat to medium. Eggs should be ready in 5-7 minutes.
Enjoy!