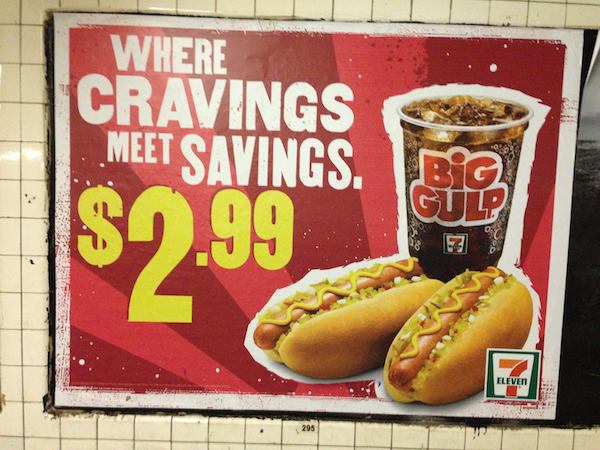 The ad above is from a campaign 7-11 is running on billboards and subway stations. To some, $2.99 for two hotdogs plus a 32 ounce soft drink (4 cups worth) is a great deal. To others, a meal that probably has 500 calories of nutrient void "food" at best, and more likely some harmful ingredients, does not seem like a good idea.
We have become so used to cheap food in America that we often forget the real price being paid. The real price is our health.
In the 1960′s about 30% of a family's available income was used to purchase food. By 2000 that number had gone down to 6-7%. Food prices have recently gone up due to commodities shooting up, but families are still spending less than 10% of their income on food. France and other European countries spend 50% more than we do on food. Brazil – 25% of available income. Poor countries spend even more.
Now let's look at healthcare expenditures in the US:
You can pretty much instantly see that the anomaly is the purple line, representing the US.
Does cheap, low quality food equate with rising healthcare costs? Correlation is not the same as causation, but there are some pretty good arguments as to why cheap foods have led to a rise in chronic disease.
1. As a company, would you rather sell soda at a 90% profit margin, or zucchini at 10% profit margin? And as behavioral economics has shown us, people WILL supersize, and WILL eat the cheaper food, even when it's not healthy.
2. Subsidies for farmers in the US go to the corn and soy growers, not the kale growers. Corn syrup is found in thousands of food items. Kale, in almost none.
3. High profit margins on junk food lead to increased spending on marketing in order to sell even more.Meanwhile the broccoli Growers Association has yet to air a Superbowl ad.
Any suggestions to fix the mess we're in?