This is a guest blog post by Carol Harvey, Director of food/nutrition labeling and product development at Palate Works.
French's is playing up how low they go… as in calories. One serving of Classic Yellow Mustard has 0 calories per 1 tsp serving on the Nutrition Facts. The average mustard has 5 calories, meaning 3 – 7 calories (because it is supposed to be rounded to the nearest 5), although FDA allows any amount under 5 calories to be expressed as 0, so French's Classic could very well have 4.5 calories.
The salty irony comes in the ad copy: "Farmers make our mustard zero calories, not scientists… 100% natural, no calories or gluten, just flavor."
Ummm… actually, it is a) the labeling regulations (rounding rules, etc.), and b) the preponderance of water vs. mustard seed (the only ingredient with calories and mustard flavor) that gives the product "0" calories.
Most mustards have vinegar, then mustard seed, then salt/spices as the first/primary ingredients (and also no gluten). French's Classic has vinegar, water, then mustard seed – i.e., more water than mustard seed. Who made the mustard so watery? Probably food scientists… perhaps so they could call it "zero calorie" (and/or save on the cost of mustard seed, and/or market something to those who like less mustard flavor)… as if 5, or even 10, calories per serving is going to make anyone fat.
Even their own Spicy Brown Mustard has more mustard seed (and flavor), and less water…  tipping the calorie scales at a "massive" 5 calories.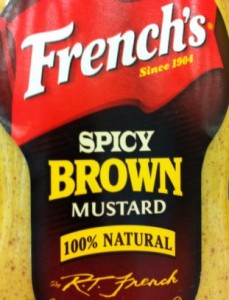 For comparison, Gulden's Spicy Brown has no water and still only 5 calories.
Nice try, French's, but it might make sense to run these "0 calorie" ads by a nutrition labeling person next time.
Carol Harvey has been a nutrition labeling and product development consultant for over 15 years. She can be reached at palatemail@yahoo.com.