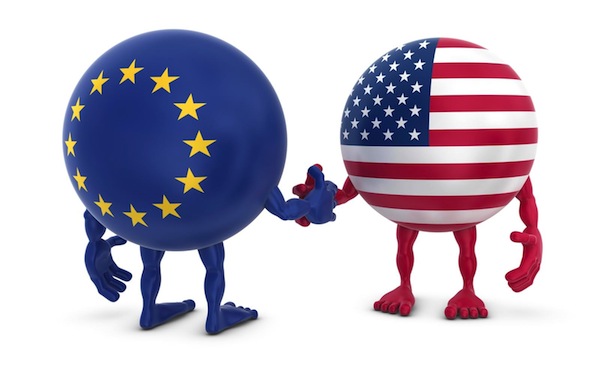 It's no secret that Europe has firmly denied genetic modification into its food system. There are no GMO foods in the UK, France, or Germany. Unfortunately, The United States' weak regulatory and safety frameworks, coupled with corporate funded politicians have allowed GMO ingredients into a high percentage of US foods.
The numbers are staggering: 93% of soy and 88% of corn in the US are genetically modified. Soy and corn are staples of the American diet, with their derivative ingredients omnipresent in many foods found on supermarket shelves.
But that could change, and not because of any safety, moral, or social concerns at the USDA, FDA, or Congress. Nope, something much more powerful – MONEY.
You see, the US and the European Union (EU) are trade partners. Negotiations are now taking place for a $100 billion trade agreement. And food is a substantial portion of international trade. However, Europe is reluctant to import foods from the US:
The EU looks down on American food safety and production practices, and with good reason. American meat production is heavily reliant on chemicals, from hormones to chlorine-bleach baths, and European officials and consumers largely reject these treatments and standards…
…the EU has enough clout to finally convince the US government to clean up America's food supply, long given over to factory farming and the economic demands of agribusiness. If America wants to export more beef, chicken and crops to the European Union, it will have to make better products. The EU won't stand for the ones we're peddling now. Read more from the Guardian…
Get it? Europe doesn't want our food because it is sub-par! If the export opportunity becomes promising enough, perhaps American farmers will start growing more non-GMO crops.
It is worth noting that a US consumer pays the lowest percentage of available income for food compared to any other country in the world – just 9%. In France it's almost double. Such cheap prices come at a cost, paid later on to our health care system.
Whether the US and EU negotiators will find common ground for a food trade deal, we should ask ourselves, how is it that the governments of European countries have been able to protect their citizens' food standards, while ours has not.