This is a guest post from James Pintner, CRC (Certified Research Chef) .
Where do I start?
There is no more conspiracy in the food business than there is in any other business.
Conspiracies come from greed or from wanting to cover something up. That usually starts at the top. Many suspicions about what's in a food package come from lack of knowledge or misinformation about food ingredients, and much of that is propagated on sound bite news, various health food store products and literature, and the internet through emails and blogs of people who take one sliver of what they DO know and put it in the wrong context or deliberately demonize something to present themselves as authorities or innovators. We've all done it…tried to pass along some "wisdom" to help those poor miserable retches who don't know any better… (Like everybody in our address book)!
The chefs and technicians formulating food products are peons like any average Joe and they do it because they are good at food…not trying to get rich or hurt anyone. Consumers at times feel misled by labels, but that's not entirely the fault of those writing the recipes.
Some of it is vitamin fortification of ingredients which just looks like a lot of complicated chemical names. Some if it is layers of regulations dictating how things are specified on labels. Some of that regulation stems from the outcry of the public wanting to know details about things they don't understand. Some of it is length of time in distribution, creating the need for anti microbial agents (preservatives) for food safety and a longer shelf life. Things can only be made so sterile and eventually they need preservatives.
All of these long unfamiliar words on labels cause consumers to feel discomfort. People don't like pronouncing technical ingredients in their food because they don't understand them. This lack of understanding opens the door for individuals with their own agendas to fill the void with their own interpretations. This is where the trouble starts and the gullible get taken. Learning about food is a lifelong pursuit.
If all you do is read a few labels and then watch your TV news or read a few blogs and determine that all food is poison, you need more education. Frankly, you need to take responsibility for what you put in your mouth.
Here's an example: Lecithin.
I've read Fooducate blog post about Soy Lecithin, as well as the long comment thread. I'd like to address some of the concerns that lecithin is part of a conspiracy to slowly poison our food with things we can't pronounce…
First, what is it?
Years ago when shopping as a health conscious vegetarian, I bought some unrefined soybean oil. If you want to see lecithin in its native state, buy some of that. It's the sludge at the bottom that makes stir frying or sautéing with the unrefined stuff impossible. There's a lot of nutrient density in it, but it's too funky to win any Betty Crocker awards.
So for all the right reasons, the producers of soybean oil developed a process to clarify and deodorize it so the average person could cook with it at home. It's basically the same thing that was done to whole wheat and brown rice i.e. "refining", to make them more sophisticated and palatable, as well as less susceptible to rancidity thereby making mass distribution and storage possible.
So, are companies trying to hide lecithin?
Nope, in fact it's good for you. If you do some studies on the brain, nervous system and liver function, you'll find that a major component of lecithin, acetylcholine is essential to the function of all three. It's popular as a nutritional supplement in natural food stores as an aid to those functions. It's also a great ingredient in smoothies because it's a wonderful emulsifier.
What's an emulsifier you ask?
It's a molecule that has hydrophilic and lipophillic properties – it is attracted to both water and fat. That's why mayonnaise doesn't separate into water, vinegar, oil and egg yolks. The egg yolks are loaded with lecithin which holds the emulsion together. That's the coating on your lips after you eat "over easy" eggs. No conspiracies there.
Lecithin, being a phospholipid, is a major component of your cells' membranes and facilitates entry of fat soluble nutrients into them. It also helps to keep fatty acids apart from other molecules within the cells, thus protecting them from oxidation; so in that sense it's an antioxidant. To understand the entire chemistry of it you need to do some studying.
It's too complicated to go into here, but let's just say it's necessary for many bodily functions (even developing fetuses). Oh by the way, in case you have soy sensitivities, lecithin is also in non stick aerosols and that doesn't even count as food does it?
Some things you should research on your own:
How is your lecithin obtained? Is it steam precipitated? Is it extracted with a solvent? What solvent? Is there any harmful residue in the finished product? Is there any damage to the environment using this process?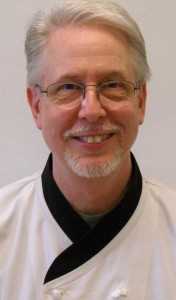 James Pintner, CRC works for Sandridge Food Corporation and has been an executive chef for over 30 years, almost all of them in the capacity of new product development.