- click to enlarge -
We recently released our Allergy & Gluten Free Scanner app, and you were the first to hear about it here on the blog. Yesterday, we formally announced the app in a press release:
Based on a user's allergy and intolerance preferences, the app analyzes the product ingredient list, allergy statement, and information from manufacturer, and alerts when an allergen is present or suspect. Additionally, Fooducate offers safe and more nutritious alternatives.
We also released an important update for those suffering from multiple allergies: we've removed the previous limitation on 3 allergies at most. You can select as many allergies as you need.
As part of yesterday's press release, we gathered some interesting statistics and created the  infographic above, exploring some facts and figures surrounding food allergies and intolerances in the United States.
In our press release, we also acknowledged the budding community around the app:
Product labels change frequently, and many shoppers have been apprehensive about using automated tools reliant on online databases.

This is where Fooducate's unique community comes into play. Fooducate harnesses the collective vigilance of its loyal members, encouraging them to comment and discuss the product allergy information provided, and even to dispute it.

Each comment is promptly reviewed and investigated by a team of experts. Updates are then made to Fooducate's product database of over 200,000 products, which has become the platform of choice for people to discover more about the products they eat.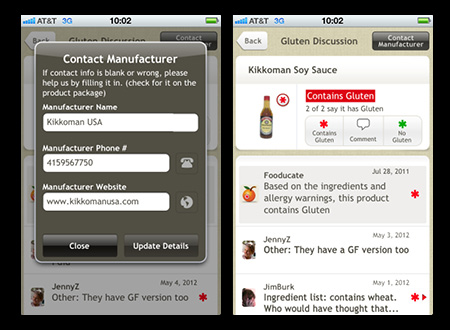 From initial use of the app, we have gathered some interesting stats:
* The top 3 allergy/intolerance selections are:
Gluten Free – 35% of the app users.
Milk – 18%
Peanuts – 11%
* 38% of users specified just a single intolerance / allergy, but 35% specified 3 allergies.
Have you downloaded our app?
Let us know what you think!
Get Fooducated: 
iPhone App 
Allergy & Gluten Free App 
Android App 
Web App 
 RSS or 
 Email