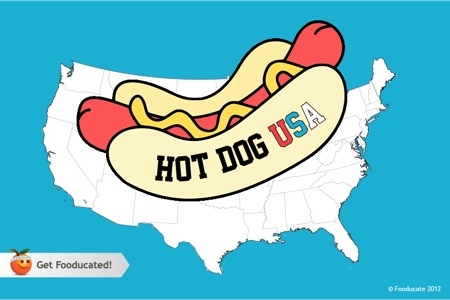 New here?  Get our iPhone or Android App to scan & choose healthy groceries! 
Or try Fooducate's Online Nutrition App!
Happy Fourth of July Everyone! Did you know that Americans will consume 150 million hot dogs before the day is over? How is that even possible?!
Today, NYC is hosting its annual International Hot Dog Eating Competition, broadcast live on none other than ESPN. This stuff-your-face tradition has been going for 96 years and last year's champions (one male, one female) are back to try and break their records: 68 hot dogs in ten minutes in the mens' bracket and 41 for the womens'.
Sure, hot dogs are a part of 4th of July culture, but we bet you didn't know this:
1. While it is often thought that hot dogs are the all-American food, they were first invented in 1484 in Frankfurt, Germany (hence the nickname "frankfurters").
2. What are the most popular hot dog toppings in the U.S.? Mustard for adults (86.7%) and ketchup for kids. Mustard is one of the healthier condiments, so stick to it! Other toppings include mayo, pineapples, cottage cheese, shrimp, coconut flakes, and pretty much anything edible…
3. Why are sodium nitrites used in hot dogs? Hot Dog companies use them as a preservative against bacteria, but they have a carcinogenic effect… No thank you, your hot dog is not worth cancer.
Some products use celery juice as a replacement, because it is a natural way to kill bacteria. Here is one example:
Oscar Mayer Smoked Uncured Angus Beef Franks
4. 7-Eleven sells the most hot dogs annually at 100 million. Woah!
5. The average American eats 50 hot dogs every year. Are you below or above?
6. Dodger Stadium is hot dog heaven, selling the most hot dogs per year out of any ballpark in the country.
7. Despite the name, Hebrew National Hot Dogs are not actually kosher!
8. Food on the moon! Hot dogs were of the first food eaten on the moon. Apollo 11 astronauts Neil Armstrong and "Buzz" Aldrin Jr. ate hot dogs on their 1969 journey.
9. Top rated beef hot dog on Fooducate is Appelgate Farms Uncured Beef Hot Dogs
10. What should you look for in the supermarket when purchasing hot dogs?
quality of the meat cut
presence of preservatives (such as nitrates)
sodium count
Enjoy those frankfurters and have a wonderful Independence Day!
Get Fooducated: 
iPhone App 
Android App 
Web App 
 RSS or 
 Email
Follow us on twitter: twitter.com/fooducate on facebook: facebook.com/fooducate