We're proud to announce our latest iPhone app – Allergy Talk by Fooducate.
As you can probably guess, this app has been designed to address the needs of people with allergies and intolerances. In addition to the regular Fooducate functionality you have come to expect from us, we now indicate the presence of the 8 most common allergens, based on your settings. The allergies we cover are: gluten, peanut, tree nut, fish, shellfish, egg, milk, soy. In the app setting screen, you can specify what allergy you are interested in:
Many apps and websites that indicate the presence of allergens are hard to rely on because they may not have up-to-date information, don't always identify "maybe" ingredients, and have a limited product database.
When designing this app we took into account those limitations and decided to build a tool that will improve the more you use it. First off, we are working with Fooducate's gigantic product database, which has the largest unique UPC/Nutrition dataset in the country. Next, we are empowering you, gluten free eaters, peanut allergy moms, lactose intolerants to collaborate and share your individual product allergy discoveries with the community. The more you use the app and share your experience with products, the better the app becomes for everyone.
Here's how it works:
For every product, Fooducate makes it best assessment regarding the allergen content, based on information in the ingredient list and allergy warnings. However, you are welcome to dispute or discuss our assessment by tapping the "Tap to discuss" button. It leads you to a discussion screen:
You can tap on the buttons to indicate "contains allergen" (red button) "does not contain allergen"(green button)  or "comment". The app then lets you state why you think the product has or does not have a specific allergen:
You can also take a picture of the product's allergy label to provide updated "proof" of its current allergy status:
Another cool feature is the ability to directly call the manufacturer from within the app by tapping the "Contact Manufacturer" button. The app shows you the manufacturer name and phone number, and lets you initiate a call with a single tap.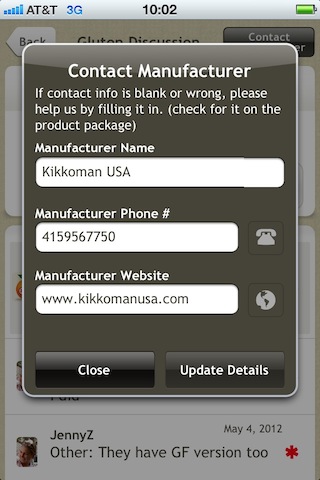 If the contact info is missing and you have it, you are welcome to update it and the entire community benefits!
We hope this app will become a trusted and fun tool to help you navigate the supermarket aisles safely. Please let us know what you think!
IMPORTANT legal information:
Fooducate is not a substitute for advice and service provided by qualified and licensed medical professionals. Any health related information found herein is available as part of a general educational and commercial service.
When looking up product and allergy information on Fooducate, keep in mind that
- Manufacturer formulations can change at any time
- Fooducate's data may be outdated, incomplete or erroneous
- Content from other users may be erroneous
To verify a product's fit for your consumption, you should ALWAYS READ THE PRODUCT'S LABELS, check with the manufacturer directly, and consult a qualified and licensed medical professional.
Get Fooducated: 
iPhone App 
Android App 
Web App 
 RSS or 
 Email