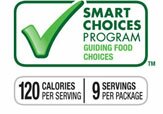 The Smart Choices food label program launched this weekend at the American Dietetic Association's annual Food and Nutrition Conference and Expo. In a previous post, we briefly outlined the history of food regulation and labeling.
Today we'll explain the background for Smart Choices, what it's doing right, and where it can improve.
Background:
Starting with the Nutrition Labeling and Education Act in 1990 (NLEA), The USDA and FDA have required food manufacturers to disclose the following information on their food packaging: ingredient list, allergy warnings, and nutrient information. The information must be displayed in a uniform standardized manner. In return for this effort, manufacturers were allowed to publish health claims prominently on the front of the product package.
Consumers embraced the nutrition information that became available, and began making more educated purchase decisions. However, many became confused with the information overflow. Cryptic ingredient names and Daily Value calculations presented new challenges to shoppers. If the FDA hoped through nutrition labels to encourage a healthier consumer, quite the opposite transpired in the past two decades, as obesity rates and diet related illnesses have shot up .
So recently, manufacturers stepped up individually to the challenge, and began offering their consumers healthy choices within their product families. Several manufacturers launched marketing campaigns promoting their "better for you" brands. In 2004, PespiCo introduced SmartSpot seals on some of its reduced fat/sugar/sodium products. In 2005 Kraft launched a similar Sensible Solutions, and several other manufacturers followed suit. And then there's the American Heart Association Heart Check Seal.
However, all these programs have added to, not decreased, the public's confusion over what to buy and eat. Consumer groups have called upon the FDA to step in and create a uniform benchmark for all food manufacturers that will become a standard for front of package nutrition information. To date, the FDA has not. This is where the not-for-profit Keystone Center stepped in and helped bring together industry leaders and academic nutrition experts to find a solution. Sensing that if the food industry doesn't figure out a way to handle front of package label standardization, the FDA will, rival manufacturers finally banded together to self-regulate and create a single "Smart Choices" standard.
Smart Choices includes a BIG GREEN CHECKMARK for eligible foods, as well as calorie count and number of servings in the package. A product can display the seal only if it meets all the required nutrition criteria as defined by the "Smart Choices" roundtable. Several industry titans have stated they will be in the program, set to roll out mid-2009, including Unilever, Kraft, General Mills, Coca-Cola, PepsiCo, Kellogg's, and Wal-Mart.

Why Smart Choice is good:
1. Simplicity. Consumers get a quick answer to their question "is this food healthy?"
2. Uniformity. assuming all manufacturers join in, "Smart Choices" creates a uniform language in the supermarket and lets consumers quickly identify the less fattening products.
3. Calories. By presenting calories upfront, people immediately get the most important data point without having to search for it in small print on the nutrition label in the side or back panel.
How could Smart Choices be better:
1. Self regulation doesn't work. Just look where it has gotten our financial system recently. It's really simple to explain: Food manufacturers need to show growing profits. to do that, they need to sell us more food, not less. To sell more food, we need to buy more products. We'll buy more products that we beleive are good for us. Therefore, manufacturers would like as many products as possible to be eligible for a Smart Choice seal. Thus, they will not adopt a benchmark that is too stringent. As Michael F. Jacobsen, executive director of nonprofit Center for Science in the Public Interest writes: "A disinterested funder and committee of experts free of conflicts of interest likely would have rated the healthfulness of foods differently from the 'better for you' Smart Choices Program adopted by the roundtable."
2. Not really a standard. Not all food manufacturers and retailers will join. There are competing industry standards vying for the same success. Guiding Stars has been in use at Hannaford Brothers Supermarkets for the last 2 years. NuVal has just launched at Hy-vee.
3. "Worse for you". Systems such as UK's Traffic Lights point out the bad, not just the good in a product.  A product which is low in sugar but high in saturated fat will get a "green light" for sugar, but a "red light" for the fat. The consumer gets a better picture.  A benchmark system such as Smart Choices does not point out products that may be "worse for you", full of sodium, sugar, and fat. No sane marketer would ever want something negative to be prominently displayed on her products. It only happens when the government thinks it's important. Just look at the long fought battle of the cigarette industry with the FDA until cigarettes/cancer messages were placed on every pack. That will probably not happen with food, not even the lowliest junk food.
4. Black and white in a gray world. The Yes/No message dichotomy oversimplifies food to a point of being ineffective. If you're standing in front of a supermarket shelf and have to choose between two similar spaghetti sauces, both with a Smart Choices seal, which is better? What about two frozen pizzas without a seal? The NuVal system (not perfect either) grades each product from 1-100, giving consumers a much better picture of each product's relative and absolute "nutrition value".
5. Lenient Criteria. Some of the criteria chosen by the food industry seem a bit too lenient. For example, 12 grams of sugar per serving is more than 2 teaspoons worth. Yet a sugary breakfast cereal toting this amount is a Smart Choice, as it is fortified with vitamins and minerals.
6. Different strokes for different folks. A middle aged diabetic has different dietary needs than a healthy teenager or a senior suffering from hypertension and trying to reduce sodium intake. How can the same exact products be "better for" all of them?

Conclusion:
"Smart Choices" will not solve our obesity epidemic. But it does attempt to give some guidance. Not all the problems we pointed to can be addressed immediately, but at least there are advances in the right  direction. Hopefully consumers will use the information provided to them and start making better decisions.
Get Fooducated:
RSS Subscription or
Email Subscription